Please have your application submitted by November 7th.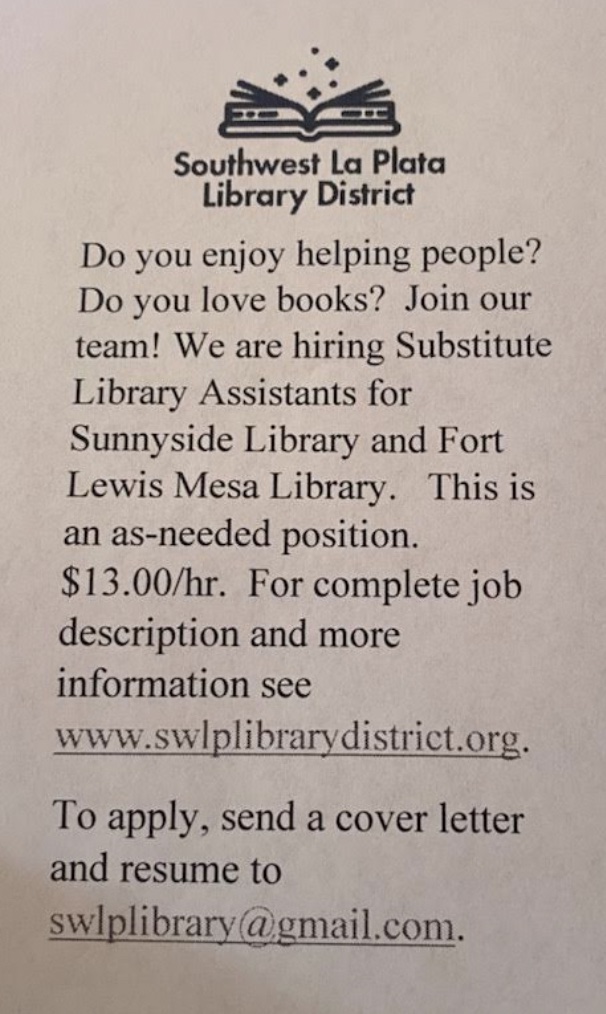 Do you enjoy helping people? Do you love books? Join our team!
We are currently hiring for the following position:
Library Director
Minimum Requirements: Master's Degree preferred. 5 years library experience, or equivalent. Travel is required for this position. Pay Range: Negotiable salary and benefits based on experience, education, and time working for the district. $55,000 to $75,000. Work Schedule: Work schedule varies from 8:00 am to 7:00 pm, Monday through Friday. The schedule shall not exceed 40 hours/week.
Responsibilities
Personnel Management (Up to 5 hours/week)
Hiring and training new staff and volunteers
Staff scheduling to ensure adequate coverage
Professional development and staff meetings
Monitor employee performance relative to accomplishing respective tasks
Personnel evaluations
Personnel records
Maintaining and fostering a positive work environment and library climate
Create an atmosphere of cooperation and positive communication
Report personnel needs, challenges and successes to the board.
Finances (1-2 hours/week)
Financial forecasting, budget preparation and analysis
Approve expense reports and invoices
Review and correct financial records
Prepare financial reports
Review outsourced financial materials for accuracy
Review income streams
Professional Collaborations (3-5 hours/week)
Liaison with 9R administration and principals, facilities and IT, etc.
Assist with IGA negotiations
Maintain strong and productive relationships with community groups, businesses, county officials, local agencies
Collaboration with LaPlata and 4-corners area libraries
Schedule and supervise contract services.
Board responsibilities (3-5 hours/week)
Attend board meetings. Keep board apprised of all aspects of the library district.
Assist with strategic planning and capital improvements
Provide information to the board regarding library operations, library legislation, and public library trends
Provide leadership and direction for major development projects
Recommend implementation of additional facilities, including but not limited to

Relocated branches
Additional Branches
Bookmobile
Offsite Storage
Pop-up Libraries
Community Outreach – Primary responsibility:  Increase library patronage (Some items may be delegated to LA III) (10-15 hours/week)
Maintain website and meeting room calendars
Approve submitted social media posts and post to appropriate platform
Monitor and facilitate changes based on patron feedback
Distribute materials to homebound patrons
Promote library programs throughout the communities
Press relations (articles and press releases)
Marketing
Coordinate with Friends' outreach programs
Attend Friends' meetings and offer library support when appropriate
Attend parent organization meetings; offer library assistance where appropriate
Monitor usage statistics
Promote the library as a community meeting space
Create mailers (newsletters, postcards, etc).
Grant Coordination – Primary responsibility:  Oversee and coordinate grant writing for the entire district (5+ hours/week)
Ensure equitable distribution of grant resources
Research grant opportunities that align with programs and other library needs
Write grants seeking funding for programs and other library needs
Coordinate with Friends' grant writing initiatives.
Maintain compliance with grant requirements
Library Assistant I
Minimum Requirements:  Candidate must be 18-years-old with a high school diploma or equivalent.  Candidate must be responsible, diligent, friendly and personable.
Pay Range: $13 – $15.00/hour; benefited if working 20 hours/week or more
Work Schedule:  Monday through Friday, 2:30 pm to 7:00 pm
Responsibilities (Up to 4 hours/day)
  Patron Assistance and General Facility Upkeep
Assist patrons
Check materials in and out
Shelve books
Straighten displays and public areas
Bulletin boards
Dust, vacuum, trash, etc., in absence of 9R maintenance
Clean and maintain LEGO, games, puzzles, toys, etc.
ILL and Curbside

Process and Fill requests
Receive and ship ILL materials
Assist patrons with ILL requests
Collection Management (1 to 3 hours/day)
Maintenance of all circulating materials including cleanliness and repair
New material labeling, jacketing, etc.
Shelf reading
Monitor library supplies and submit material requests as needed (barcodes, library cards, labels, repair supplies, etc).
Internet and social media: (30 min to 1 hour/day)
Create and submit posts for website and social media platforms
Basic IT (As needed)
Determine when an IT situation requires outsourcing
Update computers and equipment as needed
Maintain ink and paper inventory
Monitor and maintain equipment and circulating technology items
Coordinate with IT professionals to troubleshoot IT problems
Coordinate with 9R tech professionals as needed
Order and install software; manage subscriptions, databases, etc.
Library Substitute
Minimum Requirements:  Candidate must be 18-years-old with a high school diploma or equivalent.  Candidate must be responsible, diligent, friendly and personable.
Pay Range: $13.00 – $15.00/hour
Work Schedule:  Monday through Friday, 2:30 pm to 7:00 pm, variable
Responsibilities:  The library substitute will assist library personnel in keeping the library branch operating.  Responsibilities may include patron assistance, general facility upkeep, shelving and straightening books and displays, dusting, vacuuming, etc.  The library substitute may also assist with afterschool programs in the library.  The library substitute will receive paid instruction and training for all tasks they are asked to complete.