Welcome to SWLP Library District
Connecting Community ~ Unveiling Possibilities.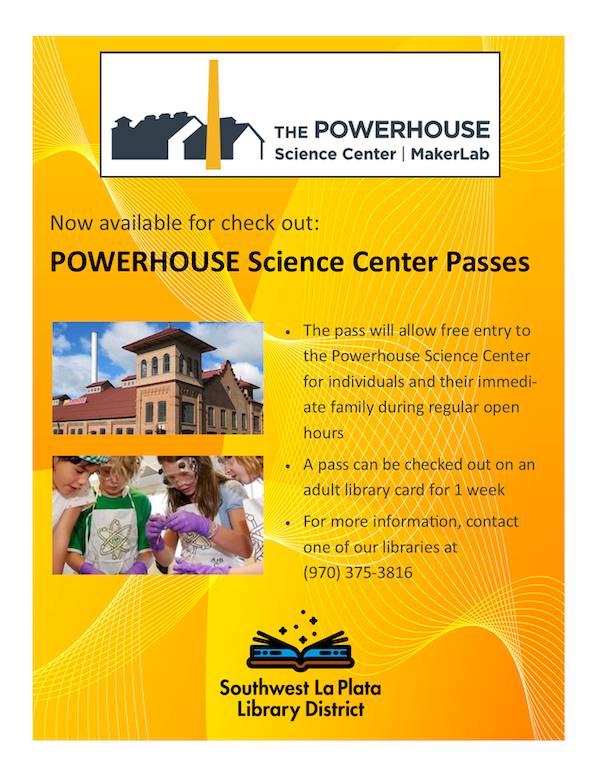 Ft. Lewis Mesa Library
11274 Colorado State Hwy. 140
Hesperus, Colorado, 81326
(970) 588-3331 ext. 3802
Open to the public M-F, 2:30 – 7pm
Sunnyside Library
75 County Road 218
Durango, Colorado 81303
(970) 375-3816
Open to the public M-F, 2:50 – 7pm
Curbside pickup for both libraries:
Monday – Friday, 9am – 7pm  
The Southwest La Plata Library District believes libraries are important because they:
Provide an educational, cultural and social meeting place for all ages.
Offer resources for preschoolers to senior citizens, homeschoolers to English language learners.
Supply books, audio & visual media, activities and programs for free via your library card.
Provide internet access available to all.
Maintain collections of local history and stories.
Build strong & positive connections within our communities.
Create affordable, accessible, vital community centers for our rural communities.
The Southwest La Plata Library District is currently seeking an individual to fill a position on its seven member Board of Trustees for 2022 and potentially several Board positions in subsequent years.
Applicants should have a strong interest in helping the District provide better services for community members. Previous experience with non-profit boards is desirable, along with good communications skills and community involvement of any sort. 
The Board typically meets once a month, and applicants must reside within the District Boundaries can be seen at this link. Current bylaws can be linked to here.
To apply for the open position, fill out the application at the La Plata County Commissioners website, also at co.laplata.co.us/apply or you can visit www.co.laplata.co.us and navigate to:
How Do I > Apply For > Boards & Commissions > Application form, 
to fill out electronically online (this is on the very bottom of the page) prior to March 1, 2022.
For additional information please contact Roy Horvath, Board Chairperson via the contact form at https://swlplibrarydistrict.org/contact_us/ or via phone at 970-749-1181.
Our Mission
The Southwest La Plata Library District Board of Trustee's mission is to oversee the administration and fiscal resources of the Library District.
In partnership with Durango School District 9-R, we strive for community participation to support and enrich the Sunnyside and Fort Lewis Mesa communities with educational, social, and cultural opportunities.
We bring together resources, services, and expertise to inspire our residents of all ages to read, explore, ask, and discover.
With this goal in mind, our libraries provide books and other materials for learning and enjoyment, encourage reading, supplement learning, and provide access to technology.
Board of Trustees
PO Box 62
Marvel, CO 81329
Notary at Ft Lewis Mesa Library
11274 Hwy 140, Hesperus
Call 970-588-3331