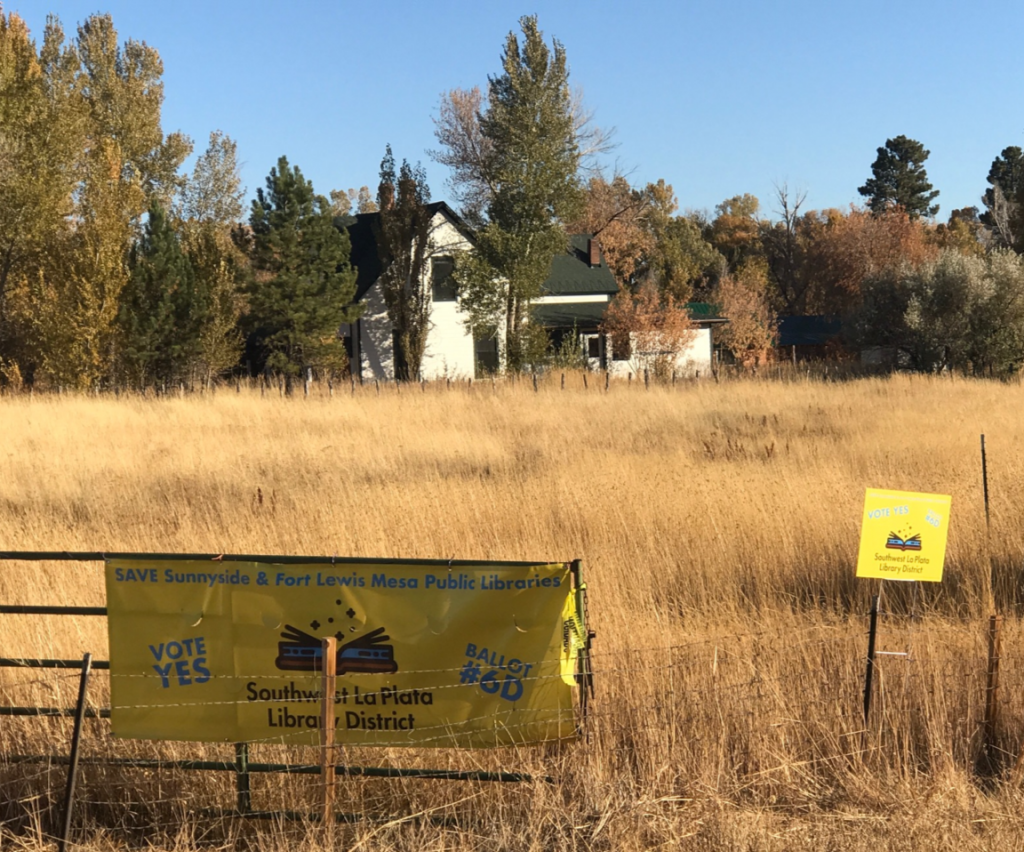 Welcome to the website for Colorado's youngest library district.

Southwest La Plata Library District is the result of citizens dedicated to saving their two rural libraries so that they can continue promoting lifelong learning in this rural community.

As part of our effort to ensure the fiscal stability of our library we are striving for increased community awareness and participation in your libraries and we invite you to explore our pages and visit our libraries.
Our Mission
The Southwest La Plata Library District Board of Trustee's mission is to oversee the administration and fiscal resources of the Library District.
In partnership with Durango School District 9-R, we strive for community participation to support and enrich the Sunnyside and Fort Lewis Mesa communities with educational, social, and cultural opportunities.
We bring together resources, services, and expertise to inspire our residents of all ages to read, explore, ask, and discover.
With this goal in mind, our libraries provide books and other materials for learning and enjoyment, encourage reading, supplement learning, and provide access to technology.
---
SUNNYSIDE CURBSIDE LIBRARY EXCHANGE OPENS
Monday, May 11th. From 11 AM til 6:30 PM, Monday – Thursday
For more info call: Kelly at 970-375-3816

FORT LEWIS MESA CURBSIDE LIBRARY EXCHANGE OPENS
Monday, May 11th. From 11 AM til 7 PM, Monday – Friday
For more info call: Chris at 970-588-3331 ext. 3802
NOTICE OF SPECIAL PUBLIC MEETING
OF THE BOARD OF DIRECTORS OF THE SOUTHWEST LA PLATA LIBRARY DISTRICT
NOTICE IS HEREBY GIVEN to the members of the Board of Directors of the Southwest La Plata Library District and to the general public that the Board of Directors of the Southwest La Plata Library District will hold a special meeting open to the public on Tuesday, May 26, 2020 at 2:30 p.m. via conference connection due to current health conditions using the following to connect to the meeting, which will be recorded. Join the meeting after being screened and admitted by the meeting moderator using a computer or smartphone to connect via Internet/web connection at: https://zoom.us/j/95462003209?pwd=OEJ4dUgrb3hOZG9XMDRZc3AvQlBIQT09

Meeting ID: 954 6200 3209
Password: 0gTidi
The agenda for the meeting is as follows:

1) Call to Order

2) Approve Agenda

3) Executive session – review of Branch Manager Evaluation progress, discussion of options for positions going forward, budgetary review for positions including Branch Managers, substitutes, interim director and other possible positions

4) Adjourn
Next SWLPD Board meetings – June 16, 2019
This Agenda may be amended prior to the meeting as allowed by law. Prior to voting to go into Executive Session, the Board will declare the topic(s) of the Executive Session pursuant to § 24-6-402, C.R.S. It is anticipated that any marked (*) agenda items may be discussed in Executive Session and acted on by the Board at this meeting. Any action taken by the Board will occur in regular session, open to the public. The Board may address the agenda in any order to accommodate the needs of the Board and the audience.