Welcome to Southwest La Plata Library District
Fort Lewis Mesa & Sunnyside Community Libraries
Connecting Community ~ Unveiling Possibilities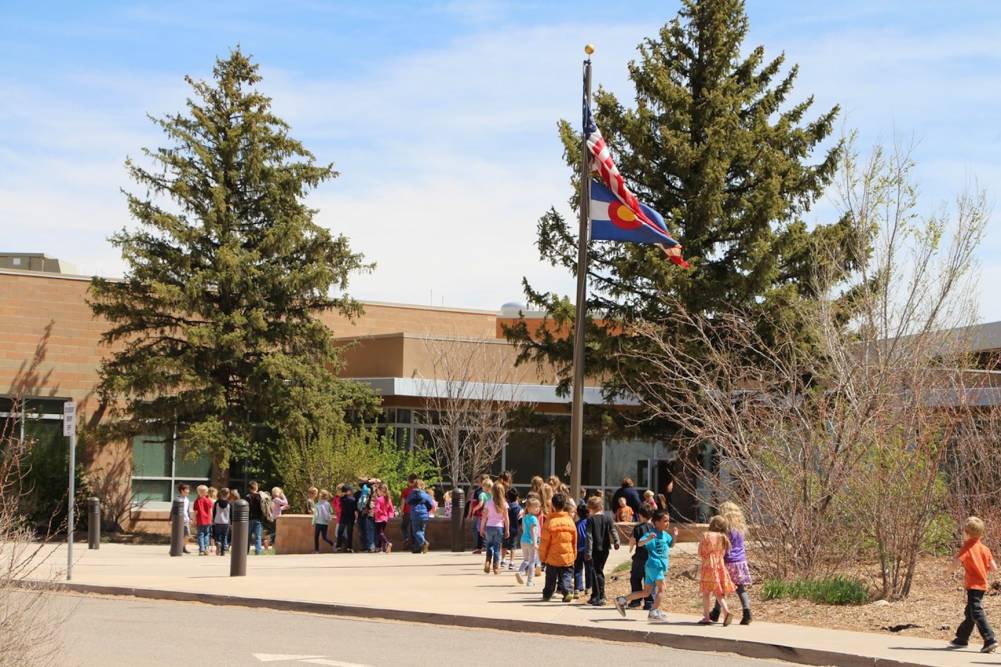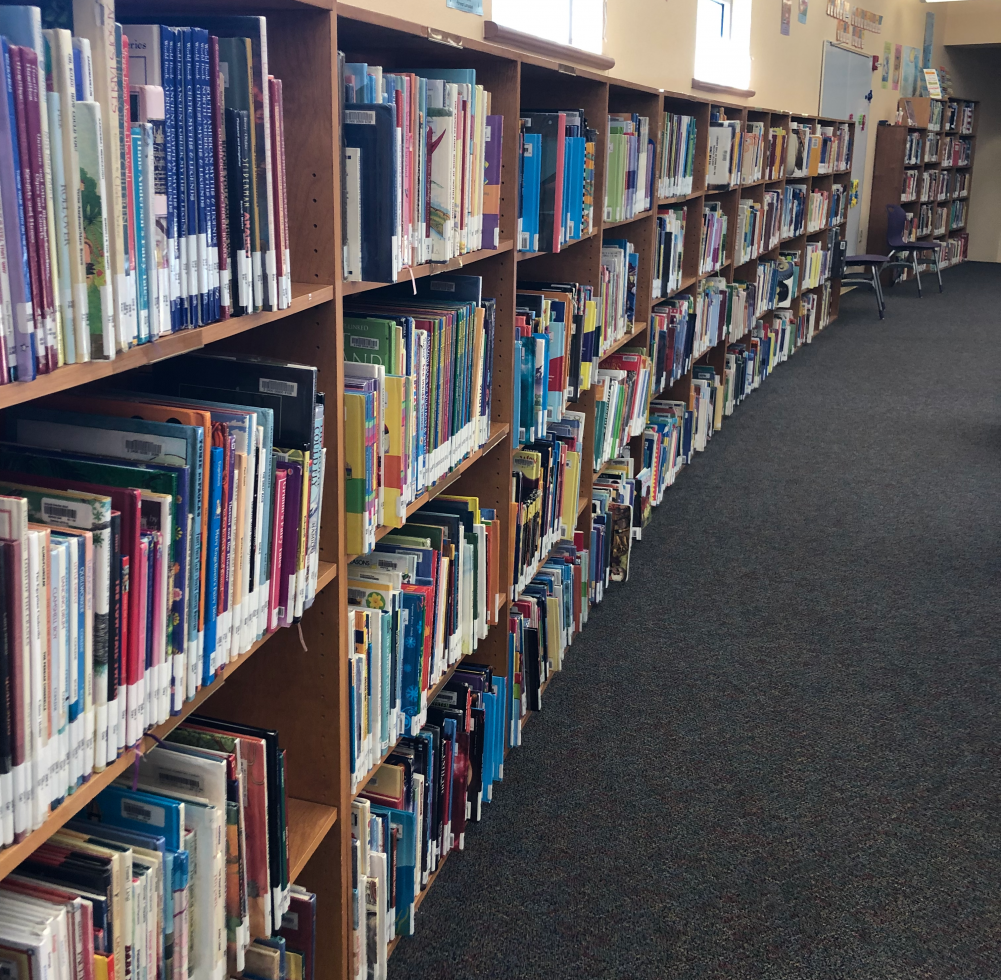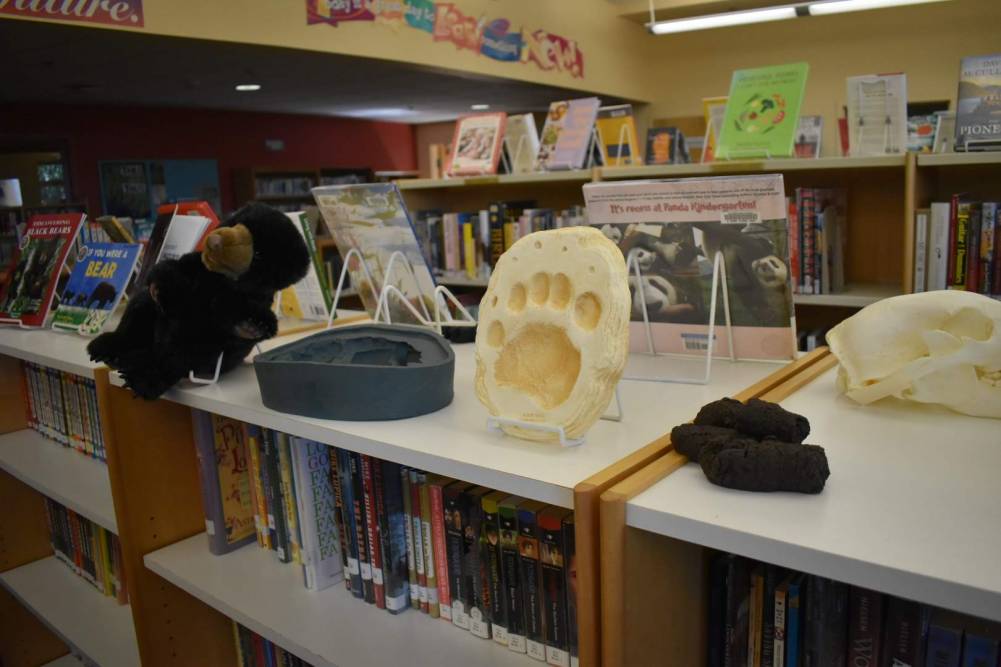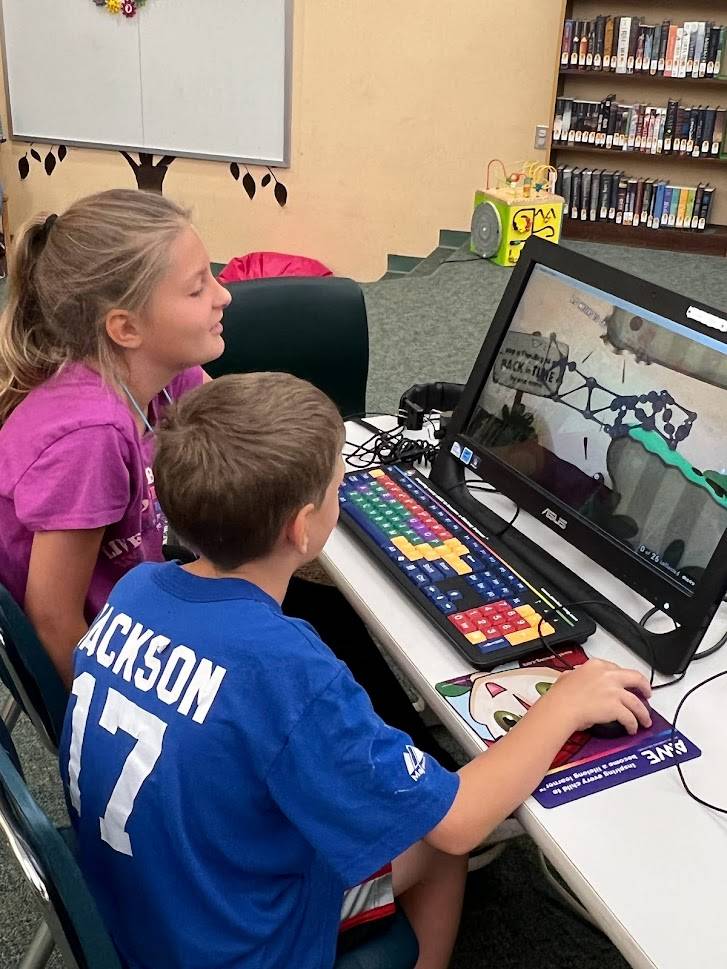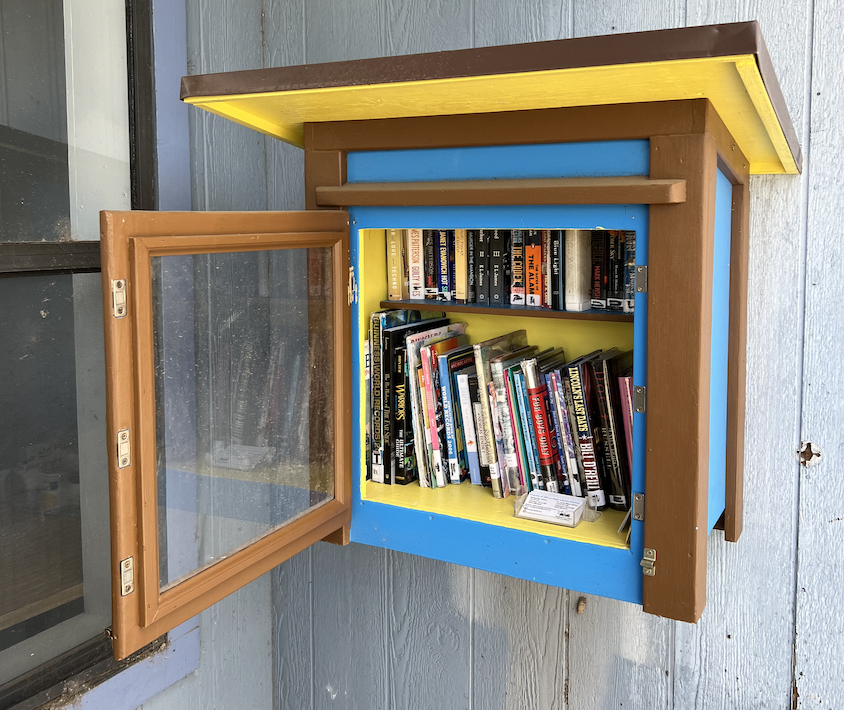 Sunnyside Elementary, Durango, CO
Fort Lewis Mesa Elementary, Hesperus, CO
Teens sign up for Summer Reading at Fort Lewis Mesa Community Library
Sunnyside Community Library nonfiction collection
Sunnyside Community Library wildlife display
Children enjoy the AWE station at Fort Lewis Mesa Community Library
Sunnyside's Old Homestead Mobile Home Park Little Free Library








Fort Lewis Mesa Community Library

Open to the public

Located at Fort Lewis Mesa Elementary
11274 Colorado State Hwy. 140
Hesperus, Colorado, 81326
(970) 375-3816 ext. 1
Christina Conrad, Library Manager
School Year Hrs: M-F, 2:30 pm to 7 pm
Sunnyside Community Library

Open to the public
Located at Sunnyside Elementary
75 County Road 218
Durango, Colorado 81303
(970) 375-3816 ext. 2
Bethany Murga, Library Manager
School Year Hrs: M-F, 3 pm to 7 pm
Both Libraries offer the following services to the community:
Notary Public, Copies, Scanning, Wifi, DVDs & DVD Rental, Audio Books, Activity Kits, Book packs, Launchpads, Computers, Colorado Parks Backpacks and passes, Powerhouse Science Center Family Passes, and don't forget we have…
CURBSIDE PICK-UP: MON-FRI, 9 AM – 6 PM
Please have your application submitted by November 7th
Do you enjoy helping people?
Do you love books?
Join our team!
We are currently hiring.
Visit our job opportunity page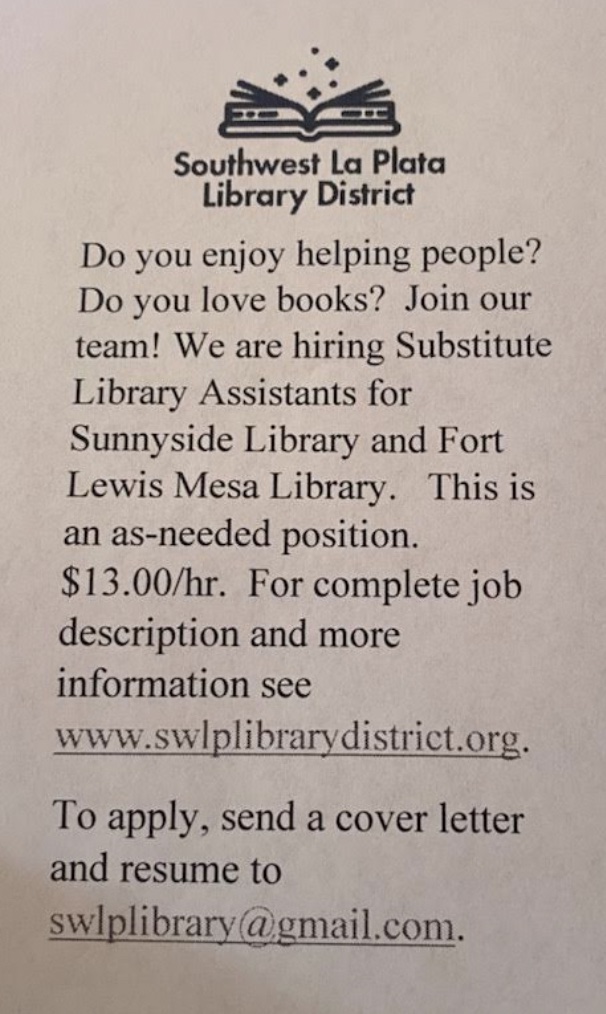 The Southwest La Plata Library District (SWLPLD) believes libraries are important because they:
provide an educational, cultural, and social meeting place for all ages.
offer resources for preschoolers to senior citizens, homeschoolers to English language learners.
supply books, audio and visual media, activities, and programs for free via your library card.
provide internet access available to all.
maintain collect

ions of local history and stories.

build strong and positive connections within our communities.

create affordable, accessible, and vital co

mmunity centers for our rural communities.


Our Mission

The Southwest La Plata Library District Board of Trustee's mission is to oversee the administration and fiscal resources of the Library District. In partnership with Durango School District 9-R, we strive for community participation to support and enrich the Sunnyside and Fort Lewis Mesa communities with educational, social, and cultural opportunities. We bring together resources, services, and expertise to inspire our residents of all ages to read, explore, ask, and discover. With this goal in mind, our libraries provide books and other materials for learning and enjoyment, encourage reading, supplement learning, and provide access to technology.

Board of Trustees

PO Box 62


Marvel, CO 81329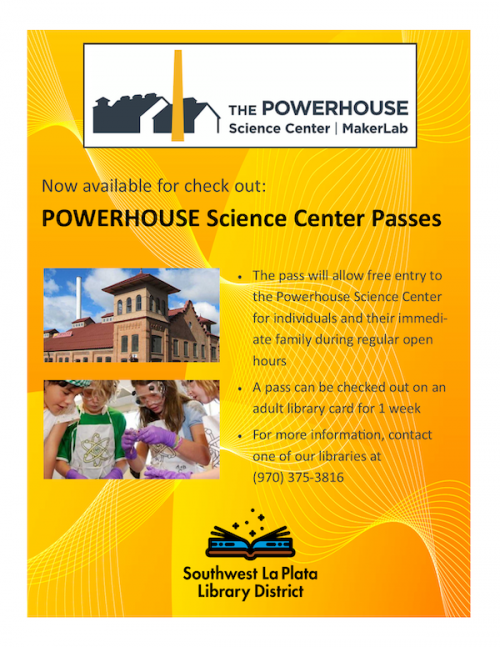 SWLPLD Community Survey 2022
The Southwest La Plata Library District was created in 2019 to save our two libraries, Sunnyside Public Library and Fort Lewis Mesa Public Library, from being closed. We have spent the past few years establishing a foundation for the successful future of these two rural La Plata county libraries.
Job Openings
The Southwest La Plata Library District will open a search process to fill the SWLPLD Director's position and several other part-time staff positions in the near future.