Welcome to Fort Lewis Mesa Library
OPEN TO THE PUBLIC
HOURS
Monday – Friday: 2:30 p.m. – 7 p.m.
Saturday (Beginning Sept 9): 10 a.m. – 2 p.m.
CURBSIDE PICKUP AVAILABLE: Monday – Friday, 9 a.m. to 6 p.m.
Pick up your materials from the pick-up bin outside the front door, or by calling the library from the parking lot and we'll bring your materials out to you. You may also return previously checked out material in the return bin.
Don't have a library card? Fill out our library card application or by calling 970-375-3816, ext. 1.
We're Here For You!
Fort Lewis Mesa Library provides a warm, safe, welcoming environment for community members to find interesting, informative, and entertaining materials to enrich their lives.
We're happy to see you and even happier to help you find what you are looking for.  You may request materials at any time by calling 970-588-3331, or by messaging Chris Conrad. Patrons may request holds from our online card catalog.
Stop in and take advantage of this valuable resource.
Ms. Chris Conrad
Fort Lewis Mesa Library Manager
11274 Colorado State Hwy. 140
Hesperus, Colorado, 81326
Phone (970) 375-3816 ext. 1
Message Chris Conrad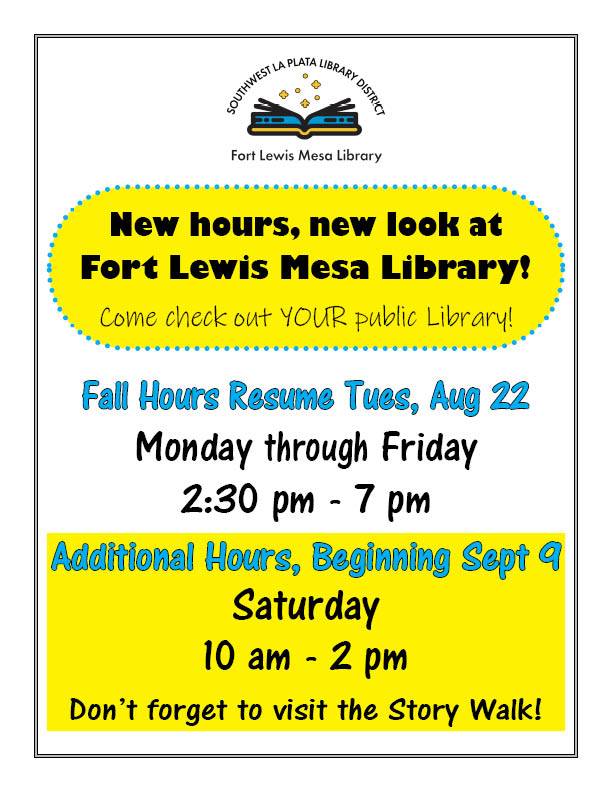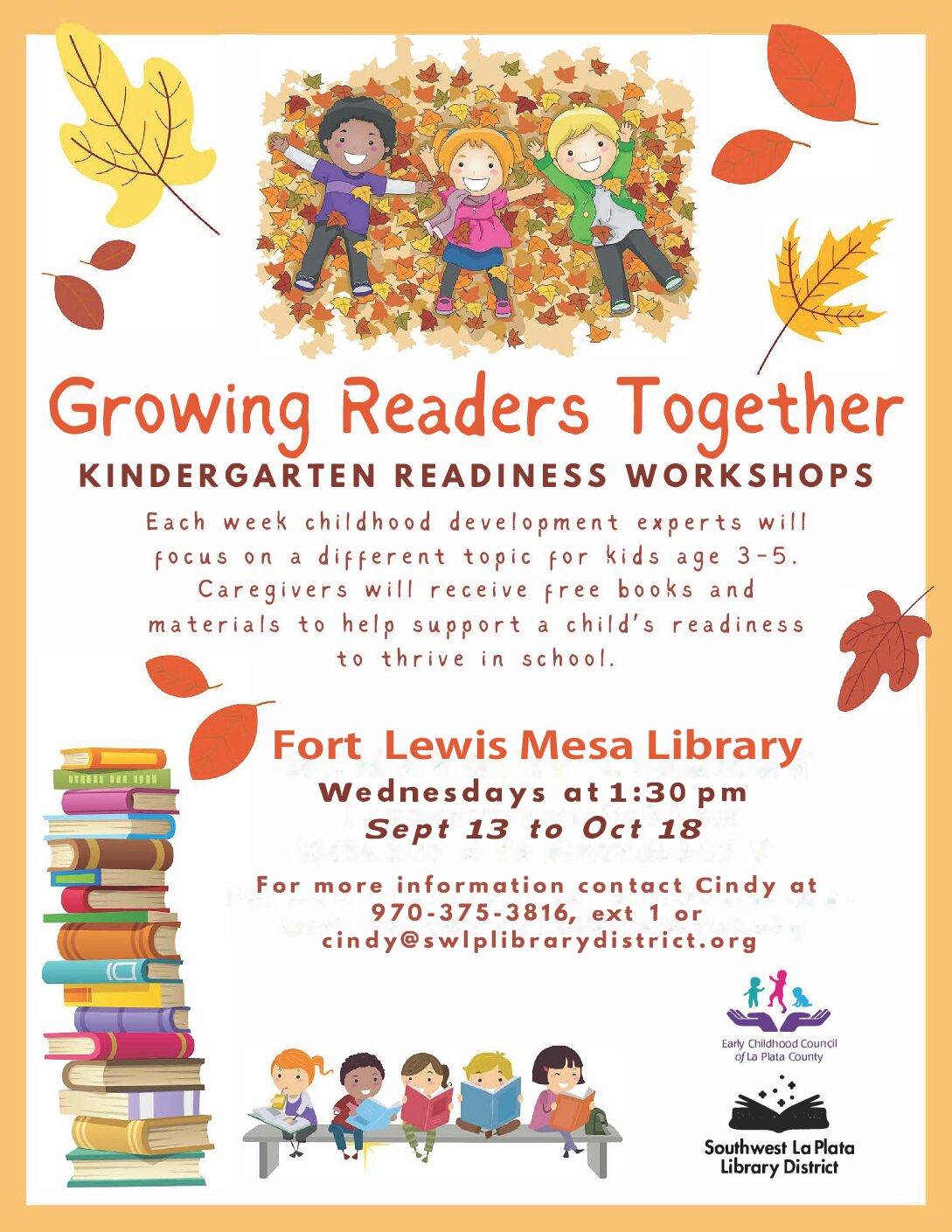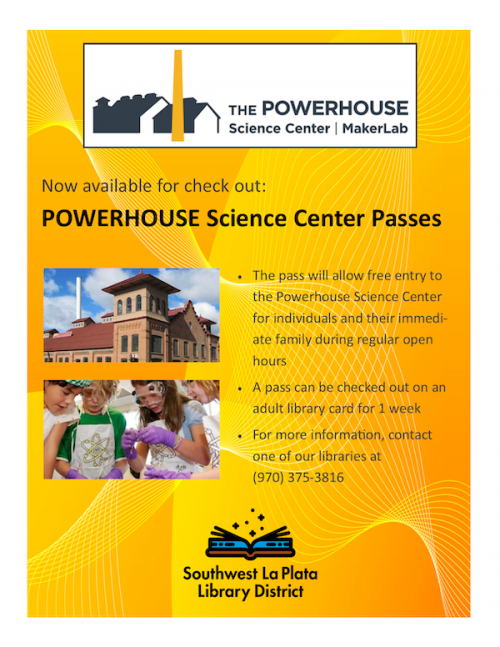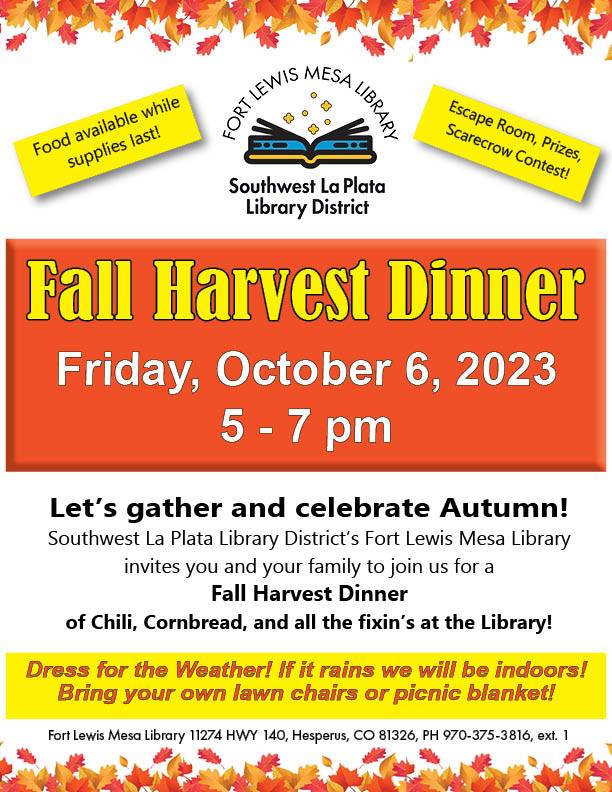 SWLPLD-#2-Powerhouse (small version) flyer_22-03-11
FLM Harvest Dinner poster
Frequently Asked Questions
What are the library hours?
Normally, when school is not is session, Fort Lewis Mesa Library is open to the public Monday through Friday from 10 a.m. to 7 p.m.
During the school year, hours are 2:30 p.m. to 7 p.m.
How do I get a library card?
Please bring a photo ID and proof of address. Library cards are free. We also have Courtesy Cards for those without a physical address or who will be in our area for an extended stay.
What is our overdue fines policy?
We do not charge fines.
Patrons are only charged the replacement cost for lost or damaged items.
How many items can I check out?
Do you have a computer I can use?
Can I scan or print at the library?
Can we come hang out at the library?
Of course. Please come browse, use computers, use your own electronic devices, read, play with the Legos, puppets, train, or board games.
What is there for my children to do at the library?
In addition to books to read, we have puppets, wooden blocks, a wooden train, Lego table, board game and jigsaw puzzles to use.
Are there any special programs?
During the school year, we have Storytime every Wednesday at 2:30.
We read several books on a theme and then do a related craft or activity.
In the summer, the library sponsors the Summer Reading Program.
We host the Ornament Extravaganza in December.
This is a make-and-take community drop-in event.
We hope to add more adult and family programs in the upcoming months.
Can I donate books?
Yes! Please see the Friends of the Library page for specific guidelines.
Books may be dropped off at the library.
How can I contact the library?
How can I contact the Friends of the Library?
How can I contact the SWLP Library District Board of Trustees?
How can I contact the SWLPLD Website team?
Is inter-library loan service available?
Yes. The 127 member libraries of AspenCat participate in resource sharing. We can place the request for you or you can do it yourself using the online catalog.
Are books the only thing I can check out?
No. We have DVD's, audio books, puppets, Launchpads, Busy Boxes and State Park passes!
Do you have ebooks and eaudio books?
Yes. Easy peasy. Download the app and the e resources can be accessed from our online catalog.