You may request materials at any time by calling 970-375-3816, ext.1 or email via our contact page.
or requesting holds from our online card catalog – link here.
Materials will be available for pick up from 9 a.m. to 6 p.m.
We look forward to serving you. Stay safe and healthy.
Chris Conrad
Fort Lewis Mesa Library Manager
November 9, 2020
For more info call: Chris at 970-375-3816, ext. 1.
Kids and Toddlers
At Fort Lewis Mesa Library we strive to provide a welcoming environment for kids and toddlers to explore their world. Our AWE Early Literacy Station offers off-internet literacy activities for young people to delve into. The Lego table, wooden train and wooden blocks and puppets provide creative play opportunities. Puppets are available to check out, too! Foster your child's love of books with our selection of picture books to read together and board books especially for little hands to love. 
Teens and Tweens
Come check out our Young Adult section. We have a number of the most popular series and regularly get in new releases. Stay tuned for upcoming events especially for you!
Adults and Seniors
Something for everyone! We are always getting in new releases of both fiction and non-fiction books. No RedBox or fast enough internet for Netflix? Check out a DVD from us! We have old favorites as well as new releases available. Ease your commute with an audio book. No or slow internet? Come use our computers. Need to do something on line but not sure how? We can help you. 
Computer and Internet Access
Computers are available for public use. We can also scan your documents. Copies and prints are available for ten cents per page for black and white and fifty cents a page for color. You do not have to have a library card to use the computers. Wi-Fi is available for you to use your personal devices.
Notary Public
Chris Conrad and Liz vonTauffkirchen are both certified notary publics and these services are now available for the community. Please call for document requirements.
Summer Reading Program
Oceans of Possibilities 2022
What better way to beat the dreaded Summer Slide than at FLM's fun and interactive Summer Reading Program (SRP)? Earn books and prizes by reading minutes or by filling out a fun SRP Bingo Card! The program runs from June 13 to July 29 (we're off the week of July 4th) and the SRP programs are Wednesdays at 9 a.m. For more information or to sign up, go here.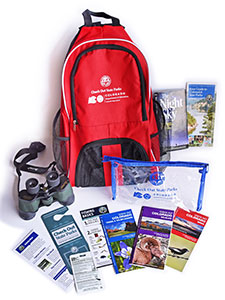 Check Out State Parks
Colorado State Parks has made their Check Out State Parks program available to us. We have one Check Out State Parks backpack available for check out. The backpack has a parks entry pass (That's right! You can get into the state parks for free!), binoculars, wildlife viewing guides, and State Park information. There is also one additional Parks entry pass available. These may be checked out on an adult card for one week.